Arthroscopic Ankle Surgery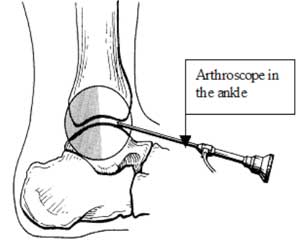 The use of modern technology allows operations to be performed through keyhole incisions and has advantages over conventional surgery, as the ankle responds badly to open incisions, and complications of open surgery are common.
Ankle arthroscopy is performed under a general anaesthetic as a day-case procedure. During the surgery an arthroscope (a small telescope approximately three to four millimetres in diameter) is inserted into the ankle through two or three small puncture wounds. This allows the surgeon to see and operate inside the joint. Operations can be on the soft tissues and the bone, including removal of bony spurs, damaged cartilage and inflamed soft tissue.