Pain in the heel can be caused by many things. The commonest cause is plantar fasciitis.
Other causes include:
• Being overweight
• Constantly being on your feet, especially on a hard surface and wearing hard-soled footwear
• Thinning or weakness of the fat pads of the heel
• Arthritis in the ankle or heel (subtalar) joint
• Irritation of the nerves on the inner or outer sides of the heel
• Fracture of the heel bone
What is Plantar Fasciitis?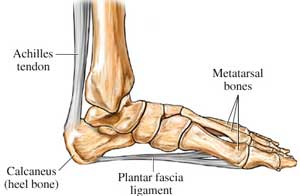 The function of the heel in walking is to absorb the shock of your foot striking the ground and to start springing you forward on the next step. The heel bone, or calcaneum, is cushioned by specialised fat, contained in elastic pockets, within the thickened skin of the heel. It contains a strong bone (the calcaneum).
There are a number of strong ligaments, which run between the calcaneum and the toes. This ligament helps support the arch of the
foot. The strongest of these ligaments is the plantar fascia.
The plantar fascia takes a lot of the stress when you walk, or even just standing. In some people the plantar fascia becomes painful and inflamed. This usually happens where it is attached to the heel bone, although sometimes it happens in the mid-part of the foot. This condition is called plantar fasciitis.
Causes Include:
• Constant stress. Plantar fasciitis is therefore commoner in people who spend all day on their feet, or are overweight.
• Stiffness of the ankle or tightness of the Achilles tendon increase the stresses on the heel. Most people with plantar fasciitis have a rather tight Achilles tendon.
• People who have high-arched ('cavus') feet or flat feet are less able to absorb the stress of walking and are at risk of plantar fasciitis.
• Occasionally plantar fasciitis starts after an injury to the heel.
• People who have a rheumatic condition such as rheumatoid arthritis or ankylosing spondylitis may get inflammation anywhere a ligament is attached to bone (enthesopathy), and plantar fasciitis in these people is part of their general condition.